Existing client?  We know how important payment acceptance is to your business, so our expert customer service team is here day and night, 24/7, ready to take your call at 877.828.0720. 
Payment Acceptance
Connection Bank is excited to offer best-in-class payments technology to ensure accepting debit and credit card payments is
simple, secure and reliable.  
Now more than ever, businesses are experiencing high processing fees, confusing and unreliable reporting and poor customer service.  We know these issues take you away from focusing on your business, which is why we partnered with CardConnect to offer our Client CardPoint: the perfect payments solution for any business.
More Ways to Get Paid
Our solution covers all payment channels so you pay one low monthly fee, and your customers can make purchases in-store, over the phone or online via a traditional countertop terminal, tablet, mobile phone or computer.

Payment Methods
Whether you want to accept Visa, MasterCard, American Express, Discover, Debit, ACH, EBT, gift cards or NFC (Apple Pay), we have you covered.  We also offer store-branded gift and reward cards that you can sell or offer as store credit to increase revenue and customer loyalty.
Interchange Optimization
We aggressively manage interchange rates and have built our technology to automatically include Level 2 and Level 3 data with a transaction, meaning your qualify for the lowest rate possible every time.  This is especially advantageous for B2B, large ticket (over $5,000) and mail order/telephone order processing, with saving per transaction from 0.50% - 1.10%.
Save Money
Our simple, online applications make it easy for you to take advantage of our merchant services offering.  Better yet, clients who switch always save on card processing fees.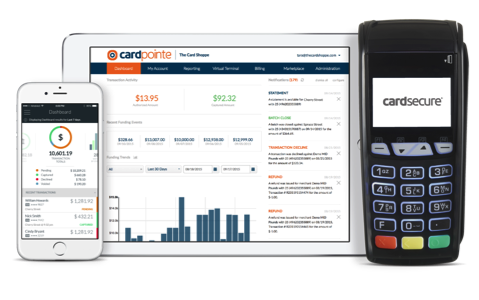 See it in Action
Align Yourself with the Pioneer of Payment Security


We are extremely proud to partner with CardConnect, one of five providers in the US of PCI-certified point-to-point encryption (P2PE).  Protect your transactions with our industry-leading EMV and PCI-Certified security solutions.
P2PE
The only solution for data breach protection up to $50,000 and PCI scope reduction, which takes your SAQ from 326 questions to 26 questions.  We also have solutions for chip cards that reduce your liability.

Secure Cardholder Data
CardConnect's patented tokenization method produces mathematically irreversible tokens that remove cardholder information from your system, thereby reducing your PCI scope.
PCI-Certified Vault
Creates secure profile records for each customer (perfect for automated recurring billing!) and stores them in an ultra secure, offsite PCI-compliant environment.


Watch Your Business Grow

Powered with advanced tools and reporting, all in one place.  Fully searchable and customizable reports offer
strategic customer and transaction data
- available via mobile device, tablet, or computer.
Single Notification Platform 
Access electronic settlements, deposits, chargeback notifications and statements all in one place.  Our online reporting center provides transparent access to everything you need to know about your company's payments activity.
Personalized + Relationship Based Support 

We know how important payment acceptance is to your business, so our expert customer service team is here
day and night, 24/7
, ready to take your call at 877.828.0720. 
Get Started with a Free Evaluation
Ready to start saving?  Contact Kim for a free evaluation of your current merchant services agreement and equipment.